Alex Patton is a weekly guest on the Ward Scott Files for "Political Nerd Tuesday" : a weekly exploration of all things related to political strategy,political polling, and political research.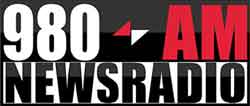 Below are the show notes prepared for the show.  The show notes are prepared ahead of the show and do not reflect extemporaneous discussions, but do contain links and additional information to topics discussed.
You can listen to a podcast of the show at the Podcast Page for the Ward Scott Files.  The podcasts are normally posted within hours of the completion of the show.
Trust in American Institutions
Trust in American institutions varies widely by political ideology, according to a new Gallup poll.
Conservatives are more likely to trust organized religion, the police and the military. Liberals are more likely to trust the Supreme Court, television news and public schools.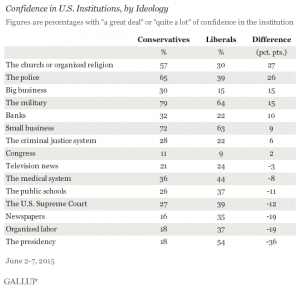 Presidential Debates
Fox News  hosting first debate of Rep candidates – Aug. 6 in Cleveland, using an average of five as-yet-unspecified national polls to determine the lineup.  Only 10 will be on stage.
.5 point difference between 10 and 11th place.
polling methodology may choose the 10.
But differing methodologies complicate that calculation even more. Not every poll targets the same types of voters. There are polls that include independents. There are polls with self-identified Republicans, polls with verified registered Republicans, and polls that take an additional screening step to find only respondents who are likely to participate in their states' primary election or caucus. Each method produces a different result, with broader survey samples benefiting candidates who are perceived as moderate—and candidates who have high name recognition, but not necessarily strong support in key early states.
strategies of candidates will change – with only a month to differentiate themselves, people will get desperate.
Campaigns who are in danger of not making the cut may try everything possible to improve their chances over the next four weeks-taking extreme, news-making positions; dumping opposition research on opponents; inundating e-mail inboxes; and blitzing the Sunday television circuit, late-night talk shows, conservative radio airwaves, and cable news programs. Instead of spending resources on political operations in early-voting states, candidates may blow that cash on national TV ads to boost name recognition at the eleventh hour.
An analysis by the Bloomberg Politics polling team of the entry criteria released by Fox News suggests that it will be virtually impossible to know which candidates will qualify for the first debate until just days before the event, regardless of what they do in the coming weeks.
Alan Grayson
When a local Sunday morning cable news show asked Grayson what he thought about the GOP presidential field, the Orlando Democrat made a surprising endorsement.
Grayson wants Republican Rand Paul to be his next president.
"I look at the Republican field and I can't see a single person in that field, with the possible exception of Rand Paul, who I actually want to be my president," Grayson told host Ybeth Bruzual on the News 13 Orlando talker Political Connections. "I look at this from the voters' perspective … and I say to myself, 'these people do not have an answer to this very important question: What have you done for the people.'"
Kevin Franck, a representative for Grayson's campaign committee, said the statement was certainly not an endorsement of Paul.
"Rep. Grayson definitely does not support Rand Paul for president," Franck said in an email, "and he plans to vigorously support the Democratic nominee. "Alan has never voted for a Republican presidential candidate in his life, unlike some people.