This post started as a smart-alec facebook status, but the more I think about it, I'm not too far from being serious!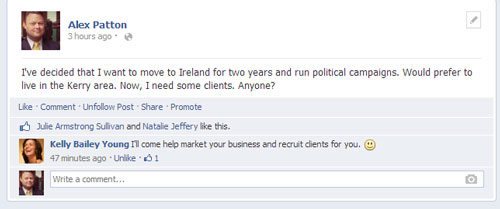 Open Letter to Ireland
Dearest Ireland,
You are a magnificent country!
I am an American Republican political consultant from Florida, and I want you to hire us, more specifically me.
I'm serious, Republican politics in American is currently in a state of disarray, and I think the only way through this mess is to let it play out.
Some people feel that by shrinking a political party by purging those "less clean" than an arbitrary yet undefined set of standards is a path to victory.  I disagree, but I've come to realize they aren't listening to reason, succumbing to a hysteria that is griping some in the conservative movement.
I am becoming further resigned to the fact that there is significant pain ahead for the Republican party and conservatives in America.  It seems some people must touch a hot stove in order to be reasonable!
In my opinion, Republicans have an increasing probability of allowing Hillary Clinton the Presidency because of this hysteria, and I want to be prepared.
I face a choice : stay and plow through it OR embrace a grand adventure.
Let's try a Hail Mary for adventure: we are going to throw this appeal up on the Internet and see what happens.  It could land with a THUD, but hey, I can tell my wife I tried.
14.9 Reasons Ireland should hire Alex Patton
1.  I attended high school in what was Western Germany leaving weeks before the Berlin wall came down in 1989.  You see, I leave a trail of freedom and economic growth where-ever I go.
2.  I have been to Ireland : Dublin, The Rock of Cashel, Cahir, stayed at the Carrigeen Castle, Kenmare (my personal favorite), Kerry, Dingle, drove a car through the Gap of Dunloe (my favorite story), the Ring of Beara, kissed the Blarney stone, Cobh, Waterford, and countless pubs in-between!
2.4 My grandmother emigrated from the UK leaving from Cobh.  I have a desire to do additional research!
3.  I love Ireland: the people, the country, the pubs, and the food. (those who think Irish food needs improvement, don't know Ireland!  That is just old thinking!)
3.5  I think the lawn by the cricket pitch at Trinity College is one of the finest napping places in all the world after an international flight.
4.  Having lived in Europe, I am somewhat familiar with a parliamentary system of Government.  I have a working knowledge and can hit the ground running.
5.  I think by importing some of the American political techniques, I can help drive a larger message that helps distinguishes between Fine Gael and Fianna Fail.
6.  I think having fresh eyes – without being weighed down with too much history – can help craft a plan for the future regardless of past entanglements.
7.  Since there seems to be little ideological difference between to two major center-right parties in Ireland, I see the largest opportunity with Fianna Fail. I am confident that I can assist in researching, testing and creating messaging to return the Republican Party back to the largest party status.
8.  Of course, I am open to Fine Gael placing me on retainer to NOT help Fianna Fail.
9.  I drink Guinness because I truly believes it makes one strong.
10.  I own a hurley AND a sliotar.  I think the sport is AWESOME!  I am a fan!
11.  It is a 4 for 1 deal.  I have a wonderful wife with an advanced degree who loves Ireland. Two wonderful children that would treasure my experience of living in a different country and having their horizons expanded past American borders (physical and intellectual).
12.  My favorite band of all time is U2.  Currently, I love Kings of Leon, but U2 is still the goto band!  
13.  I am out to prove that not all Americans who are conservative are crazy.  Consider me an ambassador for American conservatives.
Things I can bring Ireland
A deep knowledge of American political research, political consulting, and political media techniques.
A deep understanding of technology, digital media, qualitative and quantitative research methods.
The ability to move from research to messaging.
A serious american college football fan!  Go Gators!
I appreciate the game of football and even think a draw can be exciting!
I am Catholic, but have many protestant friends.  We all just love each other.
I promise a purchase of a minimum of two annual fly fishing licenses for me and my son.  We will release everything we catch, unless my neighbor wants the fish.  Then I will give the bounty to them. (There will be fish!)
I promise to have at a minimum 1 American family per year of no less than 4 people visit me and your great country every 6 months.  Most likely, it will be more.  I am literally a small economic development plan.   My ROI will be outrageous!
I promise to become an evangelist for the entire Republic of Ireland.
You can learn more about me here.
My 'weaknesses'
Okay, you should know exactly what you are getting.
I am a vegetarian so the traditional Irish breakfast has little appeal – except the broiled tomatoes!  LOVE THOSE!
I can rarely have a single pint.  It's a true weakness.
I will need a brush up on Irish campaign laws & campaign finance laws.
I will insist on 1 week a year of vacation so that I may fish.
I am NOT a Libertarian, and think their philosophy is wrong.
I am NOT an absolutist, and I believe in getting things done, not dying on every hill when governing.
I am way too competitive.  Losing eats at me.  I will go for the win when others may play it safe.
I am way too honest and blunt.  At times it is off-putting to people, but afterwards we can have a pint and make up.
I can't even come CLOSE to understanding or speaking Gaelic.
I can't bring myself to like James Joyce's writings, but I promise I will attempt them again if this works out.  Maybe reading him in a pub in Ireland is what I need?
My Requirements
4-6 week lead time to get affairs in order (passport renewed, etc.)
Broadband with a minimum of 20 down / 10 up.
$10,000 US in a monthly retainer for 24 months (that is a bargain!)
1 week per year vacation for fly fishing
Recommendations for a proper jacket, because no one in my family owns one.
I would prefer to live in the Kerry area, but if not practical, not a deal breaker.  Dublin is a wonderful city.
So what do you say Ireland?  Can you find a place for this American who would rather undertake an adventure than watch his party shoot themselves in the foot?
Let's get Ireland moving again, seize Ireland's rightful place in the world, and celebrate all that is Irish….together!
Sláinte
PS.  This is a humorous (some may say not so humorous) way to indirectly ask my party to get their act together….unless you are serious Ireland.  Fine Gael or Fianna Fail, please call me!
References are available upon request.