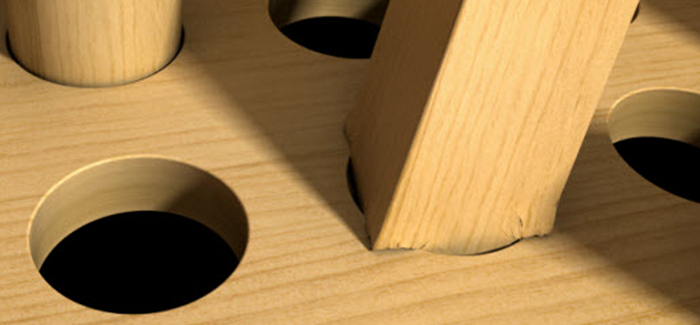 Yes, we walked away from a major piece of business recently, it was painful, and I think we are better off for doing it.
At Ozean, we take our role of advisors seriously.  Candidates & organizations pay us a premium for advice on how to do things and to provide guidance, especially in a growing complex digital world.  Then and only then do they also pay us to execute the plan using the strategy's chosen tools.
Recently, we encountered a company that did not have a strategy in mind, but approached us with a list of deliverables to be executed.   They had a fancy RFP dictating tactics: a website, brochure, etc., and wanted a price associated with only executing these tasks.
We as a company have never been ones to respond to RFPs.   Don't like the process – thinking it strips all strategy & creativity out of the process. We normally choose not to participate.  However, this was a friend, so I made an exception and we took a run at it.
At first glance, Ozean definitely had the capacity to deliver on all of the requirements, but for some reason, I was feeling a tremendous amount of uncomfortableness about the process.  Something was terribly off and just didn't feel right, and I couldn't put my finger on it.
Then I got it – this RFP process did not align with our company's role as advisors.  This company THOUGHT they knew what they wanted and needed; however, in reality the company had no idea of the reasons behind the deliverables in the RFP or how these items fit into any kind of coherent communications strategy.
This company had skipped the hard strategic work, the difficult research and the buy in from all stakeholders.
While we attempted to make the case that the company should back up two or four steps and consider the brand and the company's position in the market place, the company was not in a mindset to consider such options.  It didn't fit with the RFP requirements.
Therefore, we are presented with a poorly defined brand, a brand with an undefined position in the market place, and no research to substantiate anything currently done or the requested items.  Yet, we were STILL being assigned a list of tactics based on some enigmatic strategy, and to top it all off – we were expected to meet an undefined metric of success.
We walked.
Why?  When it comes down to it – Ozean is advisors, not strictly web designers, not only digital media producers, not simply data researchers.  Simply put, Ozean is not a vendor.
We are advisors…..  Design, social media, websites, digital advertising – all are NOTHING but tools to carry out the strategy.
When a company comes to us without a developed strategy, but describes the tools we are to use, it is a recipe for disaster.  It would be like a doctor prescribing medicine without any checkup, exam, or evaluation.  This works for pill pushers, but not trusted Advisors.
The problem is we have a lot of pill pushers in this business.
In reviewing our most successful clients, they all share one thing in common – they trusted Ozean to navigate them to success.  This means they were willing to do the homework and the heavy lifting. They allowed Ozean to be their trusted advisors.
In reviewing less successful client relations, they all share one thing in coming too – they wanted to take short cuts and skip the initial work and jump to tactics based on their own assumptions.   Sometimes this is out of arrogance "we know best", other times out of cheapness "we aren't going to pay for research or your fancy strategy" or sometimes out of laziness "Our target market is everyone."
They didn't want the Advisor, they wanted a vendor.  A vendor that would later down the road accept blame when their stuff didn't work.
At Ozean, our goal is to make sure our clients succeed.
We know from experience that when clients want short cuts for whatever reasons (arrogance,cheap,laziness) that they are far less likely to succeed.
It has taken us a long time to develop the confidence and the self knowledge of who we are as a company, and when a potential relationship attempts to force us to be something we are not, we have learned to walk away and remain friends.
Yes, it is difficult to walk away from potential revenue, but for Ozean, it is the right thing to do.  It is better for all parties.